CHS Hi-Lines Highlights - 1960-61
Credit Rhea Sprecher and Sandi Rhode for collecting and saving these editions in their scrapbooks.
September 13, 1960
• New teachers, Richard Getz and James Batchelor were welcomed to the school. Mr. Getz was the new librarian and Mr. Batchelor taught German, physics, piano and drama.
• "The Sheriff of Fractured Jaw" and "Merry Andrew" were two movies that were to be shown on campus this month.
• Miss Kaiser became Mrs. Prochnow over the summer.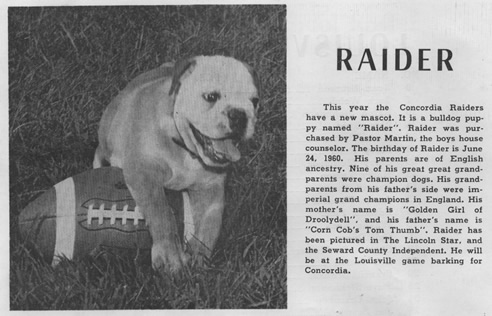 • Rev. Martin purchased an English bulldog during the summer and appropriately named him "Raider". He lives in Miessler with the rest of the boys. The football Blue Raiders lost the opening game to David City St. Mary's.
• Koolie's Kolumm made its first appearance in the paper. Her first letter came from a lonely Freshman girl:
Dear Koolie,
I have heard a lot about your Kolumn and how you kan help kids with any type of problem. My problem is that I am very shy and quiet. I am not very forward when it komes to meeting new people and I freeze when any boy tries to talk with me.
- a frozen freshman
Dear Frozen Freshman,
By the time you finish reading my answer to your letter, Frozen Freshman, I hope you will be thawed out. You aren't alone when you say you are scared and shy, because most freshmen are (at first). Start hanging on to some upper klassmen, learn their tactics, and you will soon find that you have overcome your shyness. Then you no longer have any problem - it's the upper klassmen that do - how to get rid of you.
- Koolie
September 27, 1960
• Prof. Jan Bender joined the CTC faculty and was accompanied by Friedmann in moving to Nebraska from Germany. Friedmann says teenagers in America are "more naive" than their German counterparts. He is a member of the junior class at CHS.
• Dan Seim and Sharon Lase were elected to serve as dorm reps on the Student Council.
• CeCe editorialized that CHS should offer a journalism class.
• Koolie got a letter from a student complaining about too many assignments from teachers causing bags under her eyes.
• The Blue Raiders tied Milford 6-6, and defeated St. Bonaventure, a Class B team. Tom Sass, Dennis Oetting and Dave Block were commended for their defensive efforts in the 2nd half of the game that ended with a score of 20-19.
October 11, 1960
• Student Council Notes - The trip to Denver is set for February by train. Total cost - about $25 per person . . . Lining up for meals in the dining hall will be organized by a monitor so that people don't have to stand outside in cold weather . . . Sadie Hawkins Day is coming soon. Girls were to get into shape for running. . . The Homecoming theme is "Dawn of Triumph." Lois Abresch is in charge of the high school parade.
• Mr. Hardt returned from a visit to Concordia, Milwaukee, and had some comparisons. He said our campus was friendlier, but our classrooms "look like pig pens." His final paragraph:
"How about it, can't we improve in these areas? Why not throw the scrap paper in the waste baskets or trash cans which are provided in the halls and classrooms? (And the south window in B103 is not a wastebasket.) And while we do have movable chairs for the purpose of moving them to fit a certain situation, this does not mean that they have to be left in a condition resembling unorganized confusion. I'm sure all of you are slim enough to get out of these chairs without dragging them halfway across the room. So even though Concordia, Milwaukee is my alma mater, I'd like to think that our boys and girls here can be just as neat and clean about our classrooms as a bunch of boys."
• In the "Did you Know?" column, it was revealed that . . . Larry Noack has finally admitted that Texas is nothing. . . Sharon Lase is a traitor! She always wears the colors of the opposing team. . .Princess Margaret will, as expected, not be at our Homecoming.
• The Raiders went on to two wins in a row with a victory over Weeping Water, 34-13. Tom Sass, Dave Block and Dennis Oetting each had 12 tackles in leading the defense. They followed this win with a victory over Waverly, but the score was not reported. Cliff Doll, fullback and kicker returned to the lineup.
• Brent Baden arrived on September 29, 1960 at 7:36 pm. Mr. Baden is the proud papa.
October 25, 1960
Special Homecoming Edition
The weekend included these activities:
Thursday - CHS Pep Rally and Bonfire
Friday - CHS vs Louisville; crowning of royalty at halftime
Saturday - organ demo; dorm open houses; parade at 10:30 am; Bulldogs vs. Midland in pm; buffet supper; talent show in pm and then a vesper service
King & Queen Candidates: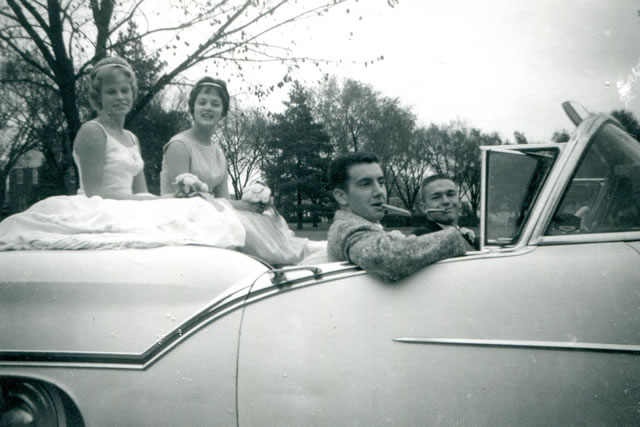 Lois Abresch, Gloria Beck, Lois Bruns, Rosalyn Frohm, Cecelia Gruenwald
John Bobzin, Gary Borcherding, Tom Sass, Cliff Doll, Ron Krueger
• Sports: Raiders extended their winning streak with victories over Waverly (34-14) and Wymore (6-0) in an upset on the Wymore field. Raiders took a 4-1-1 record into the Homecoming game. Ben Schumacher, the student manager, "has been spending his leisure hours catching moths. He wants to dispose of them in Louisville's locker room on Friday night."
• Mr. & Mrs. Langefeld became parents of Carl Duane on October 22nd. According to the Hi-Lines, he weighed 5 pounds 14-1/2 ounces and was one whole cubic foot long.
December, 1960
• The High School Chorus presented its Christmas Concert on December 11, 1960. All the selections were listed.
• Fifty-four students signed up for the Denver trip. One coach holds 47 people and the train fare was $16.50 which includes bus transportation to Lincoln and from the Denver station to LHS Denver.
• The Deans published a reminder about appropriate dress for both boys and girls. Here's a summary:
Boys - Coats and ties are standard for concerts, lyceums, special chapel, Sunday services, Sunday dinner and special programs. Blue jeans are only for work and intramural activities. Slacks and sport shirts are appropriate for classrooms and normal campus living.
Girls - Dress and heels are standard for all of the special activities listed above. Slacks and bermudas can be worn after 4:00 pm on week days. Jeans are acceptable for intramurals and work. Regular school outfits are for downtown appearances and slacks may be worn in cold weather.
• This "Letter to Santa" was found in a study room in Miessler:
Dear Santa,
Well fat boy, it's that time of the year again and you had better come thru with some pretty good
loot or I'll report you to the better business bureau. You sorta slipped up last year didn't you? Let's not have any more of that now, it's against the rules.
First, I will go thru the old line again so you will know how good I've not been. Well, to start things off, when I got to school this fall I broke a window. It was only a small window. Dr. Zimmerman didn't have any trouble boarding it up. The only damage I've done so far at the dorm is when they were testing the fire hoses and I was testing my ax.
I helped Pastor Martin find a garage for his car but he didn't especially care for it. Gee, can I help it if his car doesn't have enough power to make it over Miessler's laundry room wall expecially when I made the initial path.
I guess that's all my good points, now for what I want. I would really like a new little dog. My old dog, Oscar, disappeared. Nobody seems to know where he is except for Mr. Curtis and he won't tell.
Well, don't forget my pad, fat boy. I'll have the same good 'ole treats (chuckle, chuckle) waiting for you.
Yours still believing,
Johnnie Charlie Bobzin
• Sports: The wrestling team lost to Bellevue 56-0. Jim Diers and Ed Schade are senior squad members. . .Basketball is under way and the Raiders lost to Seward High in the opener. Cliff Doll is a senior team member. . .
• Mr. Marino announced the arrival of Anthony Quinn, born on November 20, 1960. He was pegged for the position of band director in the year 1992.
January 16, 1961
• Paul Doktor, famous violinist from New York, came to the campus on Tuesday of this week . . . The College Band presented a concert on January 22nd. . . Instrumental students gave a recital on January 12. Seniors included Donna Watson, cello; Diane Kuhlberg, cello; and Paul Grauer, trumpet.
• Can you imagine . . . Sandi Rhode being overweight? second year German class without John Bobzin? Tom Sass with a Yul Brynner? Principal Hardt excusing an absence? Ed Schade without woman problems? any state being as nice as Nebraska? Larry Noack running the high hurdles?
• Favorite comic book characters: Ron Krueger, Rosalynn Frohm, Dave Felten - Peanuts; Dave Meyer - Bugs Bunny; Dan Seim - Daisy Mae; John Bobzin - Little Schafer; Paul Grauer - Big Gloria; Tom Sass - Gil Thorpe; Gloria Beck - Rex Morgan.
• Sports: Basketball victory over Waverly and a loss to Weeping Water. Rolled to a win over Wymore. Wrestlers defeated Nebraska School for the Blind.
February 13, 1961
• High Honors - Two CHS teachers were awarded doctorates - the first to have earned this degree since the high school opened. Mr. Hardt, CHS principal, earned his degree from the University of Nebraska, majoring in secondary education, graduating on February 4. Mr. Langefeld earned his doctorate at U of N also, majoring in educational psychology.
• Did you know? Lois Brun's father looks like a movie star now that he has new glasses? Pastor Martin broke his finger and won't tell anyone how? The Dolls have another girl - Alice? Paul Grauer forgot Gloria's big picture in Denver? Sandi Rhode doesn't really have a Magic Mountain? Many CHS students indulged in wine on the Denver trip - but only on sundaes? Tommy Sass got a big kiss Wednesday from LAM - a real historic occasion? How much Lois Abresch weighs? Gary wishes he would have known.
• Sports: The basketball Raiders split games in Denver, losing the first night to Denver Christian but coming back the next night to defeat Denver Lutheran by a 60-53 score. The Raiders competed in the South East Eight Tournament, defeating Omaha Bishop Ryan in the first game and then losing to Syracuse in the second game. They captured third place in the tournament by defeating Waverly 61-50. Cliff Doll and Keith Brosz are seniors on the team who led scoring efforts.
February 27, 1961
• The CHS Harlequins will present the three-act comedy-drama, OLD DOC, on March 12 in the Weller Auditorium. The cast includes these seniors: Judy Friesen, Gary Borcherding, Tom Sass, Sharon Lase, Dan Seim, Lois Abresch, Gloria Beck and Ben Schumacher. The play is directed by Mr. Batchelor.
• CTC will host the annual Concordia Invitational Tournament (CIT) this coming weekend. Concordia, River Forest and the two Concordia Seminaries will be the other three teams in the tournament.
• Cheers 'n Tears (from the school office)
Cheers to the Pep Club for their sportsmanship. (They cheered for West Kearney who had no student support. They have worked hard in many other ways, including making posters and helping with the district tournament. Tears to the Pep Club for failing to promptly remove their posters after they have served their purpose.

Cheers to the hundreds of students who make all classes on time. Tears to the few students who are constantly tardy and who, when absent, dream up excuses for MAD to try and get out of their due make-up work.

Cheers to all those who attempt to make the best out of a poor set of lockers, those who hit the wastebasket with their waste paper, those who eat in the properly designated places, those who write only where and what they are supposed to, and those who read the Daily Informer and bulletin board. Tears to the few who add supposedly humorous remarks to bulletin board notices, the few who bring food and drink into Becker, those who feel anyplace is the proper place for any waste paper, and those who misuse the student center. Tears also to the bush dwellers of a girls' dormitory.

This is by no means a consclusive list, so don't feel bad if you didn't make it this time. Your turn is probably coming. /Mr. Hardt
• Sports: Raiders hoped to go to the State Tournament. They trounced Waverly 60-38 and then took on Henderson. They held on to a slim lead and won going away 55-44. Keith Brosz and Cliff Doll were leading scorers for the senior class. In the third game they lost to Friend 45-43 in the closing seconds of the game. They ended the season with a 15-8 record.
April 24, 1961
• The CHS orchestra and the CHS band will present their Spring Concert this Friday evening. . . CHS students participated in the District Music Contest at Crete. Senior participants included Gloria Beck, Lois Bruns, Tom Sass and Paul Grauer. . . The Chorus Tour included stops at Davenport, Iowa; Maring, Illinois; Elgin and Villa Park, Illinois; Chicago; Bethesda Lutheran Home, Watertown, Wisconsin; Milwaukee, Sheboygan, Plymouth, Berlin, Madison, Wisconsin; Williamsburg and State Center, Iowa; and Omaha, Nebraska.
• Chapel organists are now playing for chapel on the new Kuhn organ. Third year students who have played this year include Donna Watson, Dave Block, Judy Beckman, Ben Schumacher, Cecelia Gruenwald, Judie Hollar, Rosalyn Frohm, Gloria Beck, Ron Krueger, Ed Schade and Judy Friesen. "All of the organ students have done a very fine job and should be highly commended."
• Sports: It's time for Baseball and the Raiders are defending State Champions. However, they are off to a slow start, losing the opener to Omaha St. Joseph's by 4-2. . . The Track Team won the Seward County track meet, scoring 85 points. Keith Brosz (hurdles, shot, broad jump), Larry Noack (shot), and Gary Borcherding (broad jump) are seniors on the team.
May 8, 1961
• The Chorus will take it annual spring day tour on Sunday, May 14. They will sing at Calvary, Lincoln, in the morning and then enjoy a picnic before driving to Scribner for an evening concert. . . The annual sports banquet and recognition is set for May 20. . . High school and college senior women will be honored at a Tea Party, to be hosted by Mrs. Fred Telshow at the Civic Center. . . The Annual Spring Banquet, hosted by the Junior Class and honoring the Senior Class will happen this Saturday.
• Koolie's Kolumn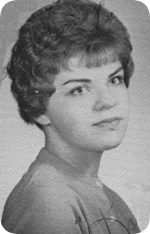 Dear Kookie: I have a terribly embarassing problem. Every time I walk up to Hillcrest I trip over the railroad tracks. It's really bad when a boy walks me home, because he thinks I'm falling for him. How kan I go about getting the tracks removed? /Many Trips
Dear Many Trips: I kan see right now that you are on the wrong track. You sound like the type who will do anything to get attention, but I'll sympathize with you about those tracks, because they are a menace at times. Instead of getting those tracks removed, why don't you let two boys walk you home, at the same time. This way, the boys won't know which one you are falling for. /Koolie
---
Senior Nicknames
As Ron Krueger would say, "Every pot has a handle." The Seniors are no exception and their nicknames are many and varied. here are some of the handles which have been attached to these upper, upper classmen.
There is Cecelia Gruenwald or "C.C." Maybe some of you have even heard her referred to a "Blondie." "Troj" combines Leroy and Tietjen into one concise word. "Red" could apply to only one Senior girl; I wonder who? "Blockrates" shows the wisdom of one Senior boy. Could "Sha Sha" describve anyone that wasn't glamorous or "Bruno" ever apply to anyone unfemine? here's one everybody knows, "Ducky Poo." A nickname of considerable interest is "Booze." "Spea" and "Katz" are two cute names for two cute Senior girls. "Fritz" Friesen, "Dorothy" Watson, and "Johannes" Bobzin are really please with their nicknames which are ever recent reminders of German class. There's also a Senior girl with a Chines nickname, "Koolie." All you girls have certainly heard of "Quiffy." Others include "Rebel" Schade, "Tex" Noack, and "Borch" Borcherding. How many people have heard of "Bunny" Beck or "Sam" Marquardt? Oh my, musn't forget "Georgia." Almost forgot that wasn't her real name. The rest of the Senior class is divided into two groups, those who don't have nicknames and those who won't tell them.
As Ron Krueger says . . .
---
• Congratulations to the Telschows, who are proud parents of little Sharon Lynn, born on May 1st.
• Sports: Baseball Raiders are still looking for their 1st victory of the season. They won the first game of the District tournament over Guide Rock by an 11-2 margin, but then were defeated by the Hordville Bulldogs in a close game, 5-3.